The day started off a little iffy, and we weren't sure if we could get a hike in without rain, but the weather totally cooperated. After days and days of unseasonal and beautiful weather, it looks like we've hit a long stretch of rainy, drizzly, wet and soggy conditions. Today may have been our one shot at getting outside this week, and we decided to go for it. This time we took a walk on a section of the Indian Creek Valley Trail that we hadn't been on before.
The rainclouds thinned out as we walked and gave way to sunshine and spots of blue.
Coal mines were a big part of our history in Southwestern Pennsylvania, and unfortunately they left a lot of environmental damage in their wake. Acid mine drainage is prevalent in the area, but thankfully the Mountain Watershed Association is doing something about it. The "Catch Basin" photo reads, "This structure collects the primary source of mine drainage and directs the contaminated water to the treatment ponds using a network of underground pipes." You can see how orange the pipe is to the left of the catch basin from the iron in the water. (The pipe is black plastic, by the way; it's not rusted metal.)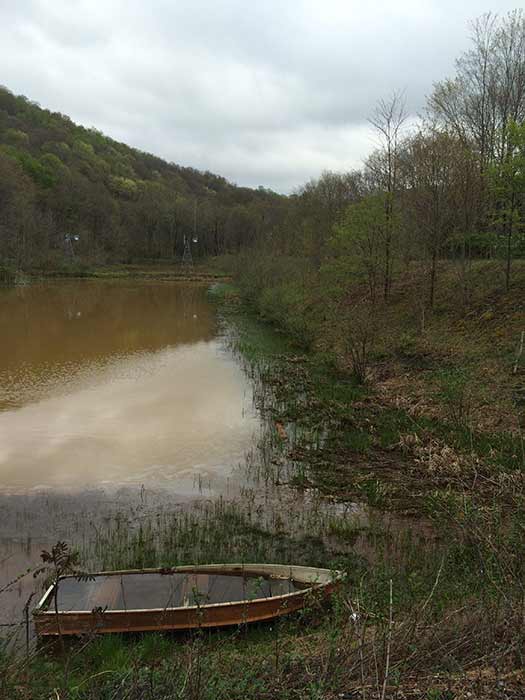 This is one of the treatment ponds. It looks bad, but it's actually a good thing. This is where the iron gets removed from the water before they direct it into Indian Creek. If it weren't for these kinds of ponds, the water in the creek would be orange, acidic and unusable. Not sure what the boat was about, but I thought it made a great photo.