Looks like I won't be running for a while (or hiking, for that matter), so it's off to the bike trail for me. (Did you see my last post about the stupid thing I did to my ankle?) Otherwise, I would need to stop eating completely because, you know, calories don't burn up much from writing blog posts.
And although we just rode Confluence last week, we decided to ride it again because of my Lucky Dog Café black bean burger obsession. Here's the thing: Lucky Dog is closed from November to April, and once they do open for the season, the hours and days when they're actually open for lunch don't always fall conveniently. And so far this year, the nice days when we were able to get on the trail have yet to coincide with a day they've been open for lunch. So I've been patiently waiting for my Lucky Dog fix since LAST OCTOBER.
Last. October.
But the wait is over. I get my Lucky Dog fix To. Day.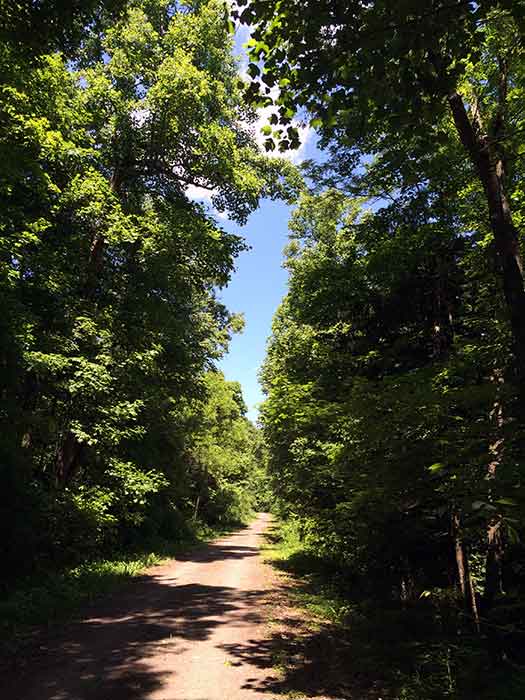 Let me start with these "It Was a Beautiful Day!" shots. Because, seriously, it was. The cicadas were so loud in some places we couldn't hear what the other person was saying. I would say, "Man, those cicadas are so loud," and my husband would say, "What?" It's like they were having their own rock concert.
But let me finish by saying, it's Thursday. When we drove past the Lucky Dog to the trail parking lot, the food delivery truck was parked in front. Apparently, Thursdays are delivery days. We biked. We loaded our bikes. We walked (I skipped, metaphorically) to Lucky Dog. Their menu had changed since we were there last October, but black bean burgers were still on it. Yay!
Well, no. Not really. According to our server, they were "out." We asked if they still had them, and she said the food delivery truck delivered the goods, but the person who makes the burgers hadn't yet.
NOOOOoooooooooo o o o   o      o.
So many things in this world to be sad over, and I choose black bean burgers.