The Brothers Hilts (with an "s" at the end, and not because there are two of them)

 
Last fall sometime (I'm figuring around Halloween because that's when Ben and Sean told me Barnes and Noble featured their book in displays for the holiday) I picked up a copy of The Insomniacs, written by Karina Wolf and illustrated by The Brothers Hilts. I picked it up, of course, because I always judge a book by its cover, and this one was not your typical one.

I also had the opportunity and pleasure of meeting the two of them at the SCBWI conference in New York a couple of weeks ago. They're fun, they're genuine and so very humble considering their talents.


If you're wondering how they work their images together, you're not alone. They like to experiment with lots of mediums, but in this case Ben (the elder of the Hilts) worked in charcoal. His part of the images are more dreamlike with less sharpness on the edges. Sean (the younger one, if you haven't figured that out) worked his part in pencil. His half of the images added the linear crispness. They combine each of their drawings together in separate layers in Photoshop, tweaking away parts of each that might be too distracting. When it comes to adding the color, they each pick and choose which illustrations speak to them, and those are the ones they work on. Once they get started, if the color isn't working for them, the other brother steps in to help. Their method seems to be working rather well.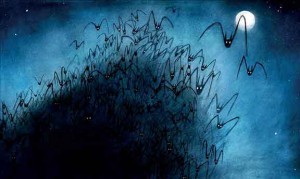 My favorite page from the book is this two-page spread featuring the bats.


To give you another idea of what they can do, here's one of the illustrations from their site. It's a re-imagining of the cover of Neil Gaiman's The Graveyard Book, and I think it's fantastic. So conceptual and simply stated. Just beautiful.

If you would like to get to know them a little better, they were featured on the Seven Impossible Things Before Breakfast blog last December.
Very much looking forward to their next project.