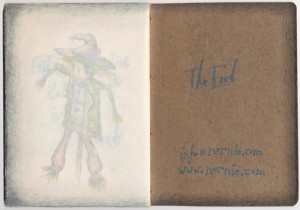 Ooh. I do have one more page to show you from my Sketchbook Project sketchbook, and here it is. It's what you might consider the end papers.
Also, they've digitized my book, and you can flip through the whole thing on the Art House Co-op site: http://www.arthousecoop.com/library/6123. Or, if you're in the Brooklyn area, you can see it for real and in person at the Brooklyn Art Library at 103A N. 3rd St., Brooklyn, NY 11211 with the call number 153.3-3.
O.K. Now I'm all finished.