So on my way out the door after that panel discussion at the Frick Art & Historical Center (that I told you about here), Susan Bails, another one of the nice Assistant Curators of Education there, stopped me and asked if I was going to be busy April 14. It's a Saturday.
She said they were having a Family Day at the Frick that day with book readings and puppets and movies and book signings and would I be interested in signing my books? With my new buddy Stacy Innerst? Stacy? Stacy's great! Of course I would be interested in signing books!
Here's the scoop: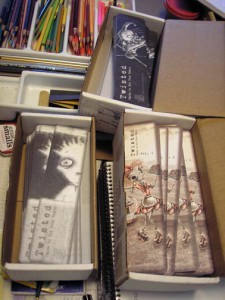 What: A book signing. I'll bring hardcover and paperbacks of Twisted: Tales to Rot Your Brain Vol. 1, some prints and posters of illustrations from the book (I still have to check to make sure I'll be allowed to sell items that aren't books, but I'm going to try), and I'll even give you a free bookmark with every book you buy.
Where: The Frick Art & Historical Center, in the museum rotunda (it's a beautiful building, by the way)
When: Saturday, April 14 from 1:30-2:30
Stop in and say, "Hi!" Please! I'm hoping some people will stand in a line in front of me, not just Stacy.