O.K. Well. There you go.
A little background, shall we?
I was working afternoon shift in Greensburg, Pennsylvania (noon-8 pm) quite a number of years ago, when I ran across some announcement somewhere that a kid's writer would be giving a free talk at our local college where I happened to be enrolled as a student. He was there to talk to the Masters in Writing Popular Fiction students, but the talk was free and open to the public.
I left work early that evening. Shh. Please don't tell.
The writer was someone I had never heard of (yet), but he came with some accolades, including a Newbery Honor for a book titled Joey Pigza Loses Control. At the time I wasn't a big reader of kid's books, and I was clueless as to who this guy was, let's just be honest.
The writer, of course, was Jack Gantos, and he turned out to be an absolutely amazing story teller. He wore a mic on his shirt throughout our little talk, displayed his writing (and, apparently, doodling) journals on a large screen behind the stage he was romping over and didn't stand still for one tiny minute. Turns out, he was a local boy. Born in Mount Pleasant, PA (me, too), grew up in Norvelt (until he was seven) and his mother still lived in Greensburg and just happened to be sitting right next to me.
***As an aside, I visit my dad every other Sunday, and Mount Pleasant and Norvelt are two small towns that happen to be part of the drive between my house and his.***
Let's just say Jack Gantos left an impression on me that evening that I'll probably never forget.
Fast forward to last Monday.
Every year the American Library Association awards some very prestigious honors for kid's books, with the two highest prizes being The John Newbery Medal and the Randolph Caldecott Medal. The Newbery goes to a writer and the Caldecott goes to an illustrator, and both are considered the highest awards that can be won by a writer or illustrator in the United States. Runners-up get Newbery or Caldecott Honors.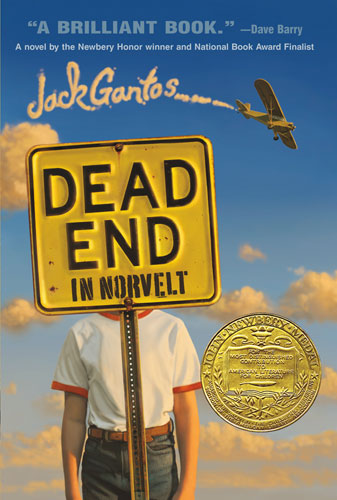 Last Monday the ALA announced the Newbery winners, and this time, Jack Gantos went home with the top prize for a book he wrote titled, Dead End in Norvelt. It's historical fiction about our very own little town of Norvelt. It's terribly fun to read by someone who recognizes the places and history that he mentions in the book: Frick Hospital (where I was born and where the one and only wall mural I've ever painted is located—please don't tell anyone, it's a really embarrassing piece of work), Mount Pleasant, Kecksburg (and the "UFO" landing there), Hecla (which is so small, it's hard to find a link to the right one), and the list goes on.
I got all teary-eyed when I'd heard that he had won, but adding to that that the book he won for was about my little corner of Southwestern Pennsylvania just made my day. And my month. I'm feeling a little pride for one of our own making it—and where he came from—big.
If you ever have the chance to see Jack Gantos speak publicly, don't hesitate for one second. You have to go. Trust me.