Went for a bike ride on the Great Allegheny Passage today. We started in Meyersdale and rode through the Big Savage Tunnel. This is the Keystone Viaduct, which is closer to the Meyersdale end.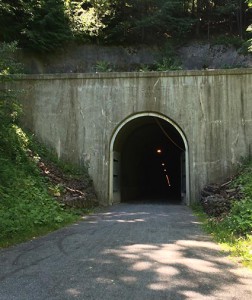 And here's the entrance to the tunnel heading east. That teeny tiny little light at the far end is the other end. It's 3,294.6 feet long, and was named after a man named John Savage who was almost cannibalized in 1736. What a thing to be remembered for.
The inscription on both ends reads that the tunnel was built in 1911. It was restored in 2003 for bike trail use.
Yeah, we went in there.